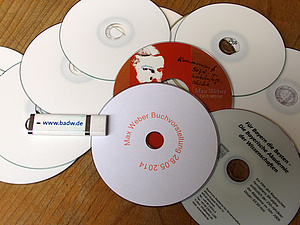 In the course of editing the Max Weber-Gesamtausgabe resources were developed in order to facilitate the editorial work, among them bibliographies, databases and general registers. They are based on the edition's collection inventories and they also record all viewed material, even if located in different places. All this resulted in valuable scientific tools of substantial interest for Weber scholars, made available here.
Bibliography of Max Weber's works
The bibliography comprises all of the handed-down writings by Max Weber, edited in sections I und III of the Max Weber-Gesamtausgabe. Titles are registered in accordance with chronology and text categories (status as of October 2002; an update will follow soon). The registered titles are present as first editions or copies at the Max Weber Office Munich.
See Bibliography (PDF)
This database was established for editing purposes as well as to allow for editorial work at different locations. It comprises all known correspondences of Max Weber, about 3.500 pieces. Unlike the printed volumes this database allows for running search queries of Max Weber's letter recipients based on writing or sending date, writing locations, archive notes and print location within the Max Weber-Gesamtausgabe.
Activated is all information on the correspondences of the already published MWG letter volumes II/3 to II/10 (= letters 1895 to 1920).
At the end of each MWG volume there is usually a register of persons, an index of literature quoted by Max Weber and a glossary. All volumes published the register entries will be compiled to provide a
complete register of persons (PDF)
complete list of literature (PDF)
complete glossary (PDF)
Max Weber's Personal Copies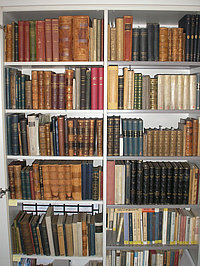 The Max Weber Office Munich was able to buy parts of Max Weber's library, consisting of a small amount of books Marianne Weber still owned after World War II. The list also includes library copies containing traces of editing by Max Weber like side marks and underlines as well as margin notes.
See Max Weber's Personal Copies (PDF)
Max Weber's personal copies can be viewed at the Max Weber Office Munich. Please register beforehand!