In recent years the Max Weber-Gesamtausgabe was already consulted for new translations.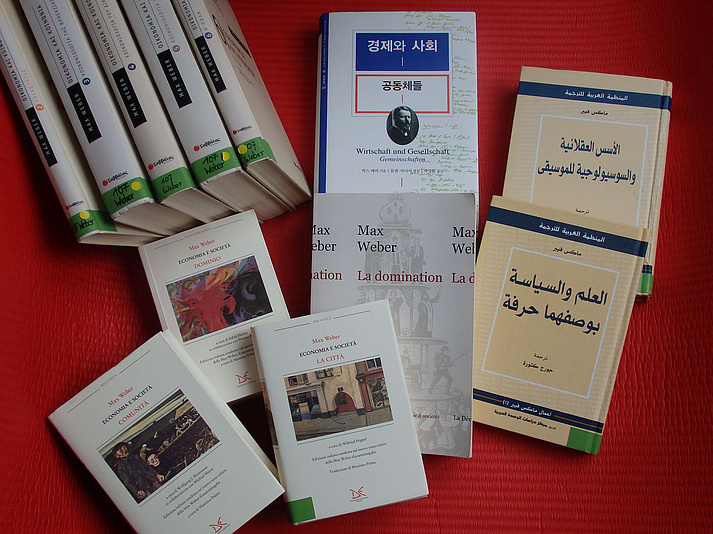 Arabic:
MWG I/17 and I/14 (The "Arab Organization for Translation" in Beirut is planning the translation of 11 volumes of the MWG): "al-ʿIlm wa-'s-siyāsa bi-waṣfihumā ḥirfa", translation by Ğūrğ Kutūra, Baīrūt: Markaz Dirāsāt al-Waḥda 'l-ʿArabīya 2011; "al-Usus al-ʻaqlānīya wa-'s-sūsyūlūğīya li-'l-mūsīqā", translation by Tarğumat Ḥasan Ṣaqr, Murāğaʻat Faḍlallāh al-ʻUmairī, Munaẓẓama 'l-ʻArabīya li-'t-Tarğama, Bairūt: Markaz Dirāsāt al-Waḥda al-ʻArabīya 2013.
French:
MWG I/22-4: La domination,

translation by

Isabelle Kalinowski, published by Yves Sintomer, Paris: La Découverte 2013.
Greek:
MWG I/22-1 to I/22-5: "Oikonomia kai koinōnia", translated by Thanasis Giouras, 6 vols., Athens: Savalas 2005-2011.
Italian:
MWG I/22-1 to I/22-5: "Economia e società: l'economia in rapporto agli ordinamenti e alle forze sociali", translation by Massimo Palma, 5 vols., Roma: Donzelli 2003-2012.
Korean:
MWG I/22-1: translation by Sung Whan Park, Seoul: Nanam 2009.